Mobotix offers the:
Two HiRes 180° Panorama


One S15D replaces of up to eight standard cameras, with detailed, wall-to-wall panorama images of two connected or separate rooms.

Discreet Miniature Sensor Modules Including Microphone


No visible camera housing for inconspicuous appearance. Flexible installation thanks to two-meter sensor cables.

Mobile-Ready (DIN EN 50155)


For buses, trains and other types of vehicles. Increased security thanks to HiRes video and audio. With minimal technical requirements.

Weatherproof Professional Solution (IP65)


Extremely robust and durable in indoor and outdoor environments. For day and night use, from -30 to +60° C (-22 to +140° F). No additional heating required.

Decentralized Complete System


Camera with on-board image processing guarantees a minimal network load. Long-term storage on an internal SD card or externally on NAS.

Low Total Costs


Low power consumption with under 5 watts (PoE supply). No wearing mechanical moving parts. Free-of-charge software for PC, tablet and smartphone.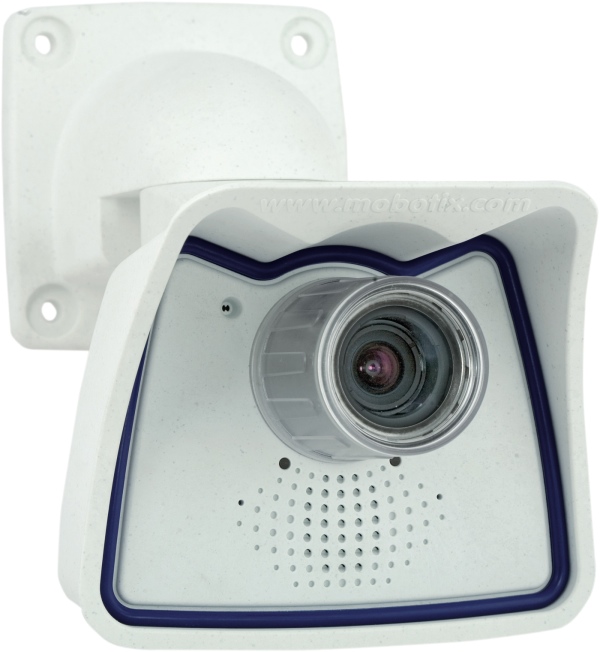 Individual choice of lens: tele/wide-angle, day/night, CS-Mount and Hemispheric (180°)

Perfect for video security and as 180° panoramic webcam

Fast, simple installation on wall, mast or ceiling

Integrated DVR with HiRes video recording without network load (4 GB MicroSD card included)

Robust, low-maintenance and weatherproof from -30° to +60°C (-22° to +140°F), (IP66)

Digital continuous zoom, pan and tilt

Microphone and speaker with improved audio quality
Two separate image sensors for day and night-time operation

Integrated DVR with HiRes video recording

Permanently fixed lenses at factory for extremely simple installation

Robust, low-maintenance and with concealed cable duct

Weatherproof from -30° to +60°C (-22 to +140 °F), without need for heating (IP65)

Digital continuous zoom, pan and tilt

Integrated microphone, speaker and PIR motion detector
Attractively designed FixDome camera featuring exchangeable lenses from tele to wide-angle

Numerous installation options both indoor and outdoor

On-wall set with space for extension modules (battery, UMTS, WLAN, etc.)

Integrated DVR with HiRes video recording (4 GB MicroSD card included)

Robust, low-maintenance and weatherproof from -30° to +60°C (-22° to +140°F), (IP65)

Digital continuous zoom, pan and tilt

Can be upgraded to an intercom system with the MOBOTIX ExtIO module
One Camera, Two Lenses


The latest 5 megapixel image sensor technology ensures brilliant




2 x 3MEGA dual images. Thanks to its enhanced light sensitivity, the camera produces significantly clearer color images also in low light conditions. At night, one single new 5MP black and white sensor can produce live or recorded HiRes images of up to 3.1 megapixel (compared to D14D with 1.3 megapixel).

Smooth HiRes Video Streams


The optimized hardware of the D15 ensures that especially at high resolution, the video streams are transmitted even more smoothly than the already high-performance D14. Since image streams of 16 frames per second and higher are perceived as fluid video by the human eye, the maximum frame rate is limited to 30 fps (when using a MEGA resolution of 1280x960) in order to provide sufficient processor performance for other tasks.

High-Quality Color Images Even IN Low Light Conditions


The more light sensitive the image sensor, the higher the image quality, even in low light conditions, such as at dusk or during heavy rain. Thanks to a 5 megapixel color sensor that is four times more light-sensitive than the existing 3.1 megapixel color sensor, the D15 delivers the highest image quality currently offered by MOBOTIX.
Complete panorama view, ideal for access control

Quad view to show images from four different angles simultaneously

Digital, continuous zooming and panning

Robust and maintenance-free, without mechanically moving parts

Event-controlled, complete room recording directly in the camera (4 GB MicroSD card incl.)

Alarm function, speaker and microphone integrated
Dual-camera module system for individual built-in solutions

Up to two separately linked, freely selectable image sensors

Optional: MxLink extension set with 1 meter cable

Integrated DVR functionality: slot for SD card

Digital continuous pan, tilt and zoom

Integrated microphone and loudspeaker

Video management software download free of charge
Bulllet-proof IP dual camera for corner mounting

Operational at temperatures from -30 to +60 °C (-22 to +140 °F) (IP54)

Cost-efficient PoE power supply via network cable

Front plate and cover made from 5 mm stainless steel

5MP image sensors for day and night (color and B/W)

Image angels from 13° (Tele) up to 82° (Wide Angle)

Automatic day/night switch

Two-way communication via integrated microphone and speaker

MxActivitySensor for intelligent motion detection

MicroSD card up to 64 GB, 4 GB pre-installed

MxBus und MiniUSB connections for interface boxes
Two-way video around the world
The T24 is based on the international video telephony standard VoIP/SIP. When the doorbell rings, a connection is established with an IP video phone or a standard computer via the network. This means that, from anywhere in the world, you can conduct video conversations with visitors at your door or open the door remotely.
Allround view with no blind spots


The high-resolution hemispheric door camera can capture the entire entrance area with no blind spots, from wall to wall and from floor to ceiling.

Recording with sound
The T24 will also inform the homeowner about who came to the door while they were away. This is possible because the camera also records automatically. Continuously or event-controlled, when, for example, someone rings the doorbell or the camera detects movement.
Keyless access


Who is authorized into the building and when? The door opener can be controlled, simply and securely, via a PIN code or an RFID transponder using the individually configurable access module.

Integrated message function


Digital voice messages can be left directly at the door station and played back automatically. This means that a courier or mail carrier can leave a message to the customer about where the delivery was brought to in their absence.

Very simple installation
The station can be connected and supplied with power via an Ethernet cable or, thanks to Mx2wire technology, simply via a bell wire. The T24 can therefore be easily upgraded at very little cost. The weatherproof outdoor station (IP65) is available in different attractive colors. In addition, MOBOTIX is offering an

upgrade version for the Vario system from Siedle

.