TA100 PRO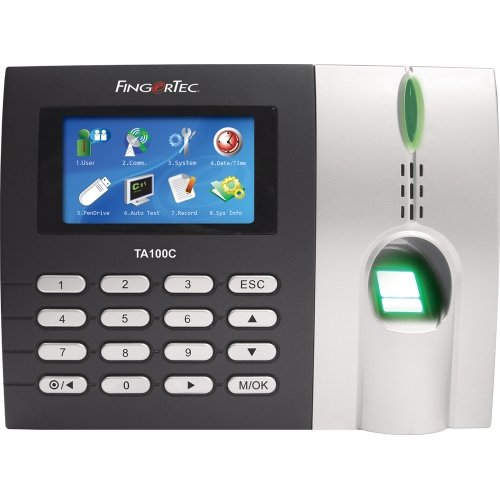 Automates employee attendance tracking, the calculation of employee time & wages, and tracks exempt employees

Supports an unlimited number of shifts, pay categories, pay rules, departments and jobs

Provides extensive payroll and management reports

Allows "Cash" and "Charge" tip recording & reporting

Exports hours directly to more than 70 popular third-party payroll software providers

Supports an unlimited number of time clocks

Multiple concurrent user capability

Calculates shift differentials

Automated time clock polling and report generation

Includes an supervisor approval editor

Applies your pay rules
GENESIS
GENESIS is a "full-featured" comprehensive time and labor management software tool that will help you gain greater control over productivity and provide the accuracy needed in your business operations. It is an easy-to-use, powerful time and attendance software solution that allows you to automate your company's timekeeping, attendance tracking, job costing, benefit administration, labor scheduling, data collection and access control needs. GENESIS time sheet software eliminates paper timesheets, which are the root of most payroll nightmares! Employees enter data at a time clock using magnetic stripe, bar code or biometric fingerprint or hand reader technology. Optional PC Clock entry is available along with timesheet submittals for exempt employees. The GENESIS time clock software collects these transactions and your pay rules are applied automatically, consistently and impartially.
Benefits
Eliminates adding up time cards

Eliminates missing punch overpayments

Compiles employee data into a multitude of informative reports

Helps develop employee schedules

Grows to meet your expanding business needs

Breaks down employee time by Division, Department, Job, Step, Operation and Task.
Features
Automates the calculation of employee time, wages and tracks exempt employees

Applies Your Pay Rules

Automates Attendance Tracking

Supports An Unlimited Number Of Shifts, Pay Categories, Pay Rules, Departments, Jobs, Steps, Operations, Tasks And Attendance Codes.

Provides Extensive Payroll And Management Reports

Allows "Cash" And "Charge" Tip Recording & Reporting

Exports Hours Directly To More Than Thirty Popular Third-Party Payroll Providers

Supports An Unlimited Number Of Data Collection Terminals

Multiple Concurrent User Capability

Calculates Shift Differentials

Automated Time Clock Polling And Report Generation

Includes An On-Line Approval Editor

Forecasts Payroll And Job Cost Information

Budgets Department and Job Labor

Internal Report Writer

Integrated Guard Tour System

Advanced Employee Browse Scheduler

Time Sheet Submittal And Employee Reviewer

Integrated Badge And Job Costing Bar Code Generator

Optional Benefit Accruals Module

Optional Bell Control Module

Optional PC & PDA Time Clocks

Optional WebClock Time Sheet Submittal, Employee & Supervisor Reviewer, And Employee Status Board

Optional Support for Hand Biometric Readers

Optional Job Costing/Validation (including quantities and piece rates)

Optional Access Control And Schedule Lockout

Optional Occurrence Ratings Module

Optional Telephony Module

Available with an integrated Fox Pro database (GENESIS PRO) or utilize your existing SQL database (GENESIS SQL).